Advent and Christmas
Advent and Christmas
Orders of service for our special Advent/Christmas services can be found below.
Advent and Christmas will hopefully look and feel much more familiar this year in both the secular world and in the church. Whilst of course we need to be responsible and safe in whatever we do, it's a joy to share with you all our current plans to mark and celebrate this important season of the light coming into the world, and to invite you along to what's happening.
There are two strands to our Advent/Christmas goings, and you're all invited in join in with us:
The first is through our worship, prayer and praise.
Each of our 10.30am Sunday services in Advent are focussed on characters in the Bible – the Patriarchs, the Prophets, John the Baptist and the Virgin Mary. We will be continuing our usual pattern of worship with a Fourth Sunday Family Communion on Advent Sunday (28th November); Holy Communion and Trinity Kids on the 5th; Second Sunday Praise on the 12th; and Holy Communion on the 19th.
Nine Lessons and Carols – Sunday 12th December, 6pm.
This is a service to hear the Christmas story, sing traditional carols and to listen to beautiful music sung by the choir. This will be followed by mince pies and mulled wine in the Church Room.
Family Carols and Crib Service – Sunday 19th December, 3.30pm
Here's a service to really get into the festive mood – singing a fab selection of popular carols and listening to the Christmas story in an engaging and accessible way.
Light in the Darkness (Blue Christmas service) – Sunday 19th December, 6pm
This service acknowledges the difficulties and pain of a season which is often seen as joyful. It is a chance to focus on the 'light in the darkness' in a more realistic tone than perhaps might usually happen. There will be candle lighting and gentle singing.
Nativity Service – Friday 24th December at 4pm
Join us dressed up as your favourite nativity character and take part in the story about the baby that changed the world. This will be a fun, interactive, family friendly time for all who come!
Midnight Mass – Friday 24th December, 11.30pm. With only moments to go to Christmas day, this peaceful service of Holy Communion and carols offers a space to reflect on the wonder of the coming Light of the World.
Christmas all-age Holy Communion – 25th December, 9.30am
Joy to the world – the Saviour of the world has been born! Join us for a fun service of celebration and thanksgiving, with Holy Communion and carols.
The second strand is our community engagement and fellowship.
Community Christmas Tree
As a way of celebrating how valuable and special our community is, from Saturday 4th December we are inviting people to once again decorate the Christmas tree outside of the church. Please bring a decoration or two (or three!) and place it on the tree, admiring all the others. Help us to bring festive cheer to all those passing by!
Obviously the tree is outside and we can't take responsibility for anything that goes missing. If you would like you decoration(s) back, the tree will be up until at least the 7th January.
Festive Open Weekend – Saturday 19th December, 1-5pm
We would like to invite everyone to come along to Holy Trinity to see the church decorated in all its festive finery. There will be a special nativity video on loop, carols in the background, and our indoor Christmas tree where you will be able to write your own prayer. Children will also be given a festive treat!
While you're stopping by you could add to the Community Christmas tree, place your nativity scene (see below) and also stop for refreshment (mulled wine and hot chocolate) with a special Holy Trinity branded mug. A specially commissioned picture of the church and cards will also be on sale.
Community Carols– Saturday 18th December, 6pm (on the village green)
In conjunction with the Parish Council, we are inviting everyone to join us on the Village Green by the newly planted Christmas Tree for a time together to sing carols and festive songs and hear the story of Christmas. We will be joined by a local choir and hopefully live musicians. This is an event that we were hoping to do last year but it became impossible – so this year please come along as a community and get into the festive mood!
We are aiming to live stream our services as per usual to our Facebook page and website. The orders of service should also be downable on our Advent/Christmas page: http://www.holytrinitypottenend.org.uk/advent-christmas.
Of course, while we are hoping and praying that all these services/events will happen as planned and you're able to join in person, although we must be mindful of the state of flux we find ourselves in. Please keep an eye on our Facebook page and our weekly email to be kept up to date in case things change. We hope you understand.
Whatever you do this Advent, Christmas and New Year, in all the busyness and often rushing around; in all the spending, preparation and partying; just try (even in a small amount of time) to let the babe born in Bethlehem open your heart and refocus yourself on the true reason for the season! Rev. Joe.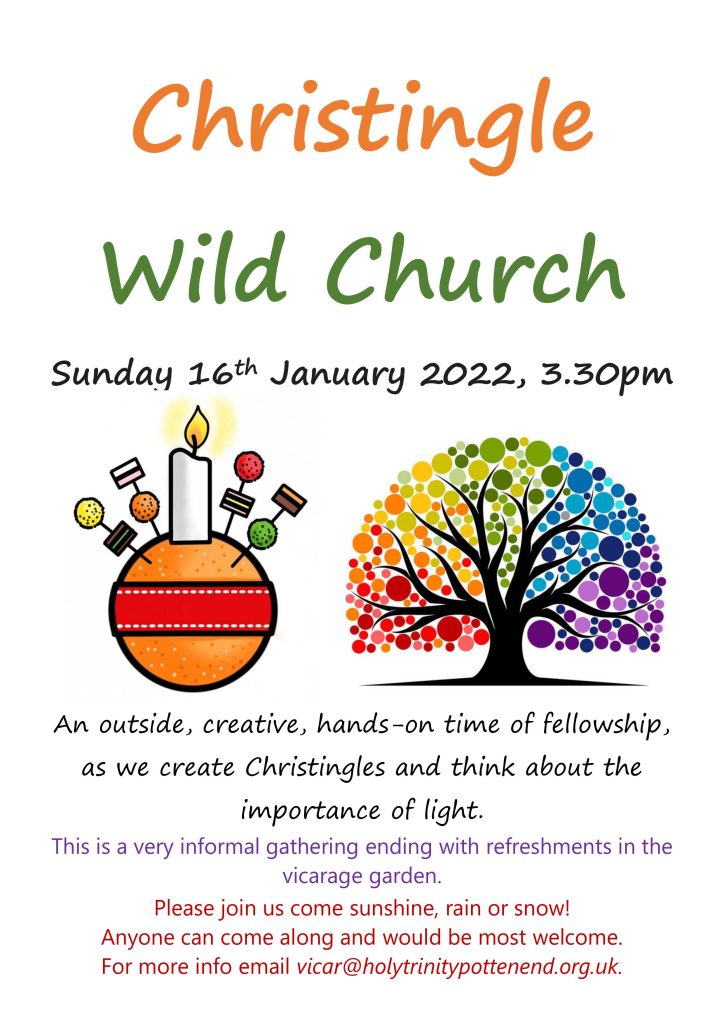 Christmas Day live stream:
Advent/Christmas orders of service: